Winter Schedule:
For the first time ever, the B&B will be occupied but closed over the winter.  We will be open again on May 1st.  If you are thinking of booking a stay for next summer or fall, you can do it now.
Woodland Trails is a country inn, built in 2003 to be a Minnesota bed and breakfast and upgraded regularly since.  The building has modern features like soundproofing and geothermal heat and air conditioning.  Innkeeper Sandra's tasteful decorating adds to the rustic ambiance.
Special!  Your stay on New Year's Eve, Saturday, December 31st, includes
a 3-Course Beef Fondue Dinner!  Sorry to say, we are fully booked for this event.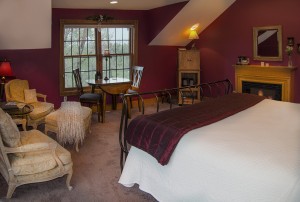 Located in the country on the Wisconsin border between Hinckley Minnesota and Danbury Wisconsin, the B & B is perfect for a Minnesota getaway to simply relax and reconnect with each other or to celebrate a special occasion like an anniversary, birthday or coming addition to the family.
Woodland Trails is less than two hours from the Twin Cities, St. Cloud, Eau Claire or Duluth.  The setting is wooded and overlooks Grace Lake Too, a private pond that is perfect to stroll around or to traverse with a canoe or paddle boat.  A gazebo with deck and fire pit is great for an evening campfire, even in winter!
Guests enjoy the miles of private trails for hiking, showshoeing (we have snowshoes) and, from May through October, riding in comfort on complimentary golf carts or on our new fat tire bikes.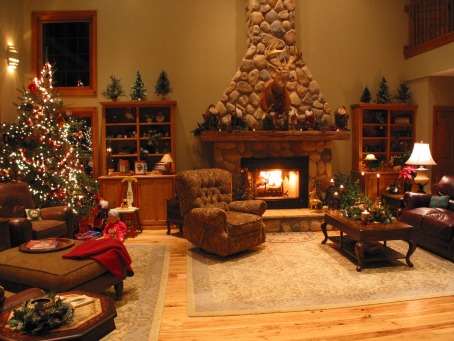 Women love the clean, cozy, welcoming atmosphere and innkeeper Sandra's decorating. Men love the rustic atmosphere, including a replica of Jim Jordan's world record buck hanging over the fireplace, and the many things to do both inside and outside.
Guest rooms are spacious with a fireplace for ambiance, comfortable sitting area, whirlpool tub, table and chairs, Direct TV and private deck or patio.
From inside the B & B, guests enjoy the inviting common areas for reading and conversation near the wood-burning fireplace in the Great Room and watching birds, deer and other wildlife out the windows.
Innkeepers Sandra and John host a wine and cheese hour each evening starting at 5:30.  Conversations with other guests during these events are always enjoyable and prove that "everyone has a story".
A three-course breakfast is served in the dining room at 9:00 and can best be described as a fun, social event.  Conversations around the table often go on for an hour or more after dessert. (Yes, course #3 is dessert for breakfast!)  An option, for those who want more privacy, is a deluxe continental breakfast brought to the room.
Special Note:
See the Highest Compliment guests can pay any B&B!



See comments guests made  on Trip Advisor.
Also see our dining guide for restaurant choices in the area.