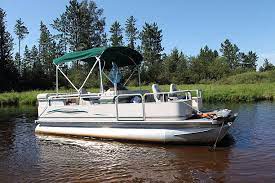 Spend a summer day on a pontoon boat, similar to this one, cruising on one of the many lakes located in Wisconsin, just across the St. Croix River from us.
Tom and Sharon Stoffel, Stoffel's Shady Oaks Resort rent pontoons. They are on Clam Lake, about 20 minutes from Woodland Trails. They also rent a boat and motor, long boards and kayaks. The resort is located at 6512 State Road 70, Siren, WI. Call for information at 715-349-5725.
Rent a pontoon on Yellow Lake through Boon Docks Marine. Yellow Lake, a premier walleye lake, is about 15 minutes from Woodland Trails. For information, call owners Chris Kuehn and Mary Smoliak at 715-349-2628.