The St. Croix State Forest ATV Trails near us are some of the best in Minnesota. In addition, they are connected to the trails in Wisconsin, which are even better!
You can bring your own ATV. We have plenty of parking for your trailer. Woodland Trails guests can ride from our driveway to the trail system. From here you can enjoy a ride, stop for lunch at the Danbury's Fish Bowl Sports Bar and gas up a the Log Cabin Store. (A permit is required for Wisconsin trails which can be purchased at the Log Cabin Store in Danbury.)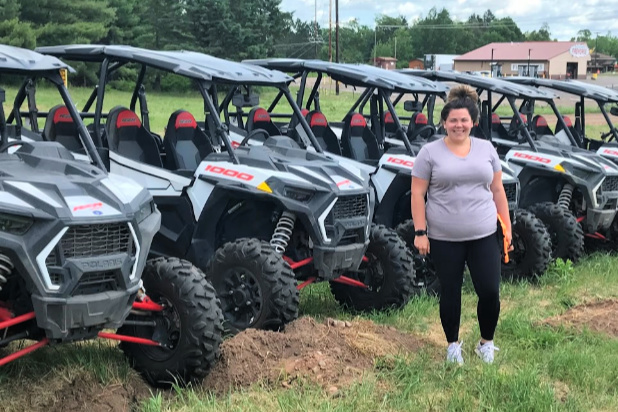 A second choice is to rent a new Polaris ATV for a half day or full day from Throttle Rentals in Danbury. Shown here with some of her machines is Rheanna Johnson, owner of the Danbury franchise.
For your next ATV adventure, consider combining a nice trail ride with a stay at Woodland Trails Lodge or Cabin!