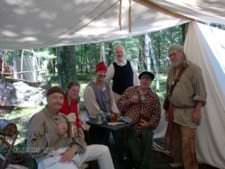 Forts Folle Avoine is a recreation of an1803 fur trading post on the Yellow River. Believe it or not, at that time there were two companies competing for the business, the NorthWest Company and the XY Company. The Fort is located on County Road "U", less than five miles from Woodland Trails.
Under Events on the Forts web site, be sure to check the dates of these special events:
Yellow River Echos
Yellow River Folk Music Festival
Rendezvous
Christmas at the Fort

In just four hours on September 1st, 1894, a fire storm destroyed Hinckley and three other towns, resulting in over 400 deaths. The Hinckley Fire Museum recalls the horror and heroism of that day. The museum is located on Country Highway 61, six blocks west of I-35.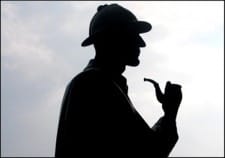 And oh, by the way, did you know that Sherlock Holmes and his partner Dr. Watson were in Hinckley just before the fire? They had been retained by railroad magnet Jame J. Hill to investigate the series of mysterious fires that had occurred in the area over the summer. Read more of their story here!

The North West Company Fur Post is operated by the Minnesota Historical Society. The Post islocated in Pine City, 1.5 miles west of I-35 at exit 169.