Canoeing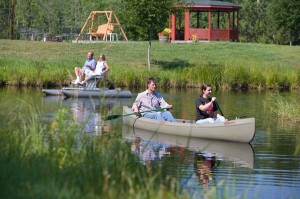 We are in one of Minnesota's best areas for canoeing, with two national wild and scenic rivers, the Upper St. Croix and the Namekagon.  No buildings are visible from the rivers.
Either of two local outfitters, both located in Danbury Wisconsin, four miles from Woodland Trails, can provide you with shuttle service for a two-hour excursion or a day-long marathon.
Campmasters Canoe Rental & Shuttle -  Bill & Donna Borst  -  or call 715-656-3219.
Pardun's Canoe Rental or call 715-656-7881.  Actually, Parduns have two bases of operations, one in Danbury and the other inside St. Croix State Park.  (You do need a sticker to enter the park.)
You might also choose to stay close to "home" and enjoy  a nice trip around   Grace Lake Too, our private pond,  by  paddleboat or canoe.
Tubing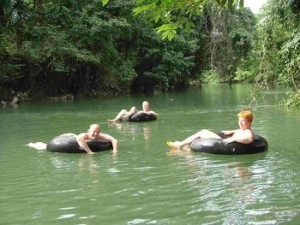 On a warm summer day, floating in an innertube down the St. Croix can be luxurious!   Pardun's Canoe Rental does tubing trips out of Danbury.  St. Croix Haven Campground, located across the road from Woodland Trails also does trips on weekends.  320-655-7989.
Two cautions:  Of course, bring sun screen!  Also, we suggest taking the shortest trip possible, about one hour.  The St. Croix, being a senic river with no buildings, you can't get out of the river between the launch place and the bridge where you are picked up.