Bird Watching Outside the B & B Windows
Some of the best Minnesota birding, year around, is right outside our windows. Starting each morning before sunrise, and continuing all day, birds that visit the feeders offer endless entertainment.
During your Minnesota vacation, take some time to bird watch here at Woodland Trails, at Crex Meadows Wildlife Area in Northwestern Wisconsin, and at Hawk Ridge Nature Reserve in Duluth, and add some bird sightings to your life list.
Species that visit the sunflower feeders include gold finches, nuthatches and chickadees.
How many species of woodpeckers have you seen? At Woodland Trails' suet feeders you are likely to see downy, hairy and red-bellied , plus the Woody Woodpecker look-alike, the pileated woodpecker. From mid-May through mid-September, tiny hummingbirds amaze guests as they land on a feeder right outside the window.
Also from spring through early summer, enjoy watching the wood ducks come to the deer feeders every morning and evening.
Bird Checklist
For a PDF checklist of birds that occur in nearby St. Croix State Park, most of which also occur on Woodland Trails land, click here.
Crex Meadows Wildlife Area
The Crex Meadows Wildlife Area is located in Northwestern Wisconsin, less than 30 minutes from Woodland Trails. Visitors are drawn to its plentiful wildlife and unique habitat. These visitors can experience a variety of wildlife recreational opportunities, such as wildlife watching, guided tours, and hiking.
History and Habitat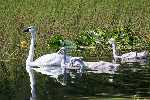 Since its creation in 1946, Crex has evolved into one of the premier wildlife viewing areas in the Midwest. It is one of the largest and most heavily visited wildlife areas in Wisconsin. More than 100,000 people visit the area annually. Its popularity is due to its large size (approximately 30,000 acres), unobstructed vistas, diversity of habitats, diversity and abundance of wildlife, and a system of roads, observation areas, parking lots and rest areas which provide excellent access to the area and abundant opportunities to view wildlife and the landscape.
Wetlands, primarily sedge marshes, comprise more than half of the 30,000 acres that make up Crex Meadows Wildlife Area. Extensive diking of these sedge marshes has resulted in the creation of 6,000 acres of deep-water marsh. Upland vegetation includes 7,000 acres of restored brush-prairie and 6,000 acres of oak, jack pine, and aspen forests. These different habitat types are interspersed over the flat to gently rolling terrain.
Location
The Crex Meadows Wildlife Area is located in west central Burnett County, one-half mile north of the Village of Grantsburg. From Woodland Trails, a 30-minute scenic drive down Burnett Country Road F takes you to Crex Visitor Center.
Click here for a PDF map of Crex Meadows.
Wildlife Recreational Opportunities at Crex Meadows
Wildlife Watching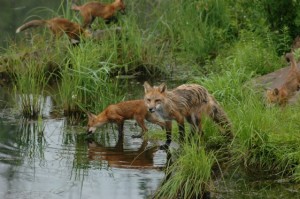 More than 260 species of birds plus many species of mammals, reptiles, and amphibians can be seen on the Crex Meadows property. Wildlife is most abundant in the spring (April-May) and fall (September-October) when large numbers of migrating birds stop at Crex to feed and rest. Spring offers the largest diversity of species and fall is best for sheer abundance of wildlife.
Hiking
Foot travel is allowed on Crex except for the refuge. While driving through Crex you will notice "Hunter Walking Trail" signs. These signs identify trails that are open to foot traffic only. Trails consist of old logging trails, firebreaks, and maintenance trails for dikes and water control structures. Most of them are well maintained.
Two trails were developed specifically for hiking. Hiking is located on the Hay Creek Hiking Trail and Upper Phantom Hiking Trail. Maps are available at the Crex office, outside of the building, on the corner of County Trunks D and F.
Sharp-tailed Grouse Blinds
There are very few places in Wisconsin where sharp-tailed grouse still exist and even fewer places where you can observe their display. The display is difficult to describe and can be fully appreciated when viewed in person. Visitors to Crex Meadows have the rare opportunity to experience this unique display each spring on the vast brush prairies of Crex.
Two sharp-tailed grouse observation blinds are available for visitors to use each spring from mid-April to mid-May. Blinds can only be used by reservation and can accommodate three to four people. A minimal fee is charged for use of the blinds. Reservations are taken after January 1, and be aware that weekends fill up quickly. Call (715) 463-2896 for your reservation. Once you have made your reservation, we will send you the direction for finding and using your blind.
Auto Tour
Crex Meadows contains several different dikes to help control the water level throughout the area. These dikes are used as roads to travel throughout Crex. An auto tour has been developed to learn about Crex and see the different wildlife living at Crex. The auto tour guide is available at the Crex Office located at the corner of County Trunks D and F in Grantsburg, WI.
Click here fore more information on Crex Meadows.
Hawk Ridge – Duluth, Minnesota
Mid-September to Late October
The Hawk Ridge Nature Reserve, located in Duluth, Minnesota, provides some of North America's best autumn hawk watching.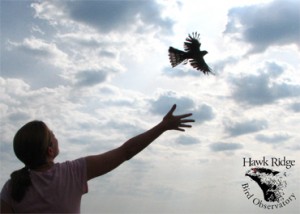 Migrating raptors, originating from summer breeding areas as far north as the Arctic and with wintering destinations as far south as points in South America, concentrate in impressive numbers at the western tip of Lake Superior.
Most raptors are reluctant to cross large bodies of water. When they migrate south and encounter Lake Superior, the birds naturally veer southwest along the lakeshore. They concentrate in impressive numbers on the bluffs overlooking East Duluth and can be easily seen from the overlook at Hawk Ridge. Of the 20 species of raptors and vultures that have been seen at Hawk Ridge Nature Reserve, the peregrine falcon and gyrfalcon are among the rarest. Whether species are common or rare, they are all thrilling to watch as they traverse the ridge, often at or below eye level.
Good Flight vs. Poor Flight Days
On days with northwest winds, a few hundred to several thousand birds can be seen migrating past the Ridge. Most winds with a westerly component will produce large numbers of migrating hawks. Southerly or easterly breezes do not generally produce as large flights of raptors but often the birds are lower and easier to see.
Species Timing
Beginning in mid-August with American kestrels, sharp-shinned hawks and broad-winged hawks, migration continues into December with the last of the red-tailed and rough-legged hawks, northern goshawks and eagles. Peak migration at Hawk Ridge occurs from mid-September to late October.
Click here for more information on Hawk Ridge.