Bicycling
Wisconsin's Burnett County, located just across the St. Croix from Woodland Trails, features miles of paved county and township roads for leisurely riding, making our inn an excellent location for Minnesota biking.

Bring your bikes (we have inside storage) or use our inexpensive ones.
We have two special bike routes laid out for your enjoyment. One is an 8-mile tour over Rustic Road 98 featuring lakes, modest hills, curves, and endless scenery. The other is a Round Lake 14-mile tour. For the ambitious, the two routes can be combined for a day-long adventure.
You might also opt for the Gandy Dancer Trail which starts in Danbury, 4 miles from Woodland Trails. The trail heads south over the old Soo Line Railroad line and is surfaced with finely crushed limestone. A permit is required which can be purchased at any of the stores in Danbury.
.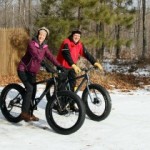 New Fat Tire Bikes
Now we have two fat tire bikes for you ruse on our trails summer or winter.  On snow and ice, the fat tires with low pressure have amazing traction.  In summer they ride over small bumps and pebbles with ease.
Hiking & Snowshoeing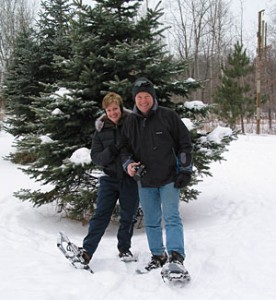 Whether hiking or snowshoeing, on our land you can enjoy a quarter-mile stroll around the pond or a longer hike over our private trails .
For even longer hikes or cross-country skiing we recommend Governor Knowles State Forest located nearby, on the Wisconsin side of the St. Croix. Check "Maps" on the Governor Knowles web site. In particular, the Brandt Pines Interpretive Trail winds along the St. Croix through an old-growth stand of large red and white pine.
Geocaching
Check www.Geocaching.com for details on this adventurous family activity – a treasure hunt using a GPS receiver. Look up caches near Woodland Trails using zip code 54830. Bring your GPS unit or borrow ours.
Past guest John Barrett has this to say about Geocaching:
"Since Amy and I were introduced to Geocaching while staying at your bed and breakfast, we have found more than 300 caches, hidden 85, won the "coveted" Minnesota GeoCache of the Month award four times, and been interviewed several times for Geocaching articles.
"Now, the Roseville Parks and Rec. Dept. has asked me to teach two Geocaching classes this summer…40 people in each of two classes…I will be mentioning your Bed and Breakfast, although I don't know if there are really the key target audience, but your place is a part of my Geocaching background, and as such, has impacted many people who have found our caches or (after this summer) were taught by us.
"Thanks again for a wonderful stay and the introduction to a great hobby!"
John Barrett
Roseville MN
Single men will be interested in our GPS Proposal Adventure when planning to pop the question!
St. Croix State Park
Woodland Trails B & B is located very close to St. Croix State Park. Minnesota's largest: the park covers 34,037 acres, which is 53 square miles!
Click here to learn what the area which is now St. Croix State Park was like in the 1850s, before settlement and before logging began.
A daily or seasonal state park permit is required to enter. Once inside, activities include:
• Climbing the old Fire Tower for a panoramic view.
• Renting a bicycle and touring the six miles of paved trail.
• Renting a canoe for a two-hour trip on the St. Croix.
• Swimming in Lake Clayton.
• Hiking or cross-country skiing on miles of trails.
• Touring the site of the old Civilian Conservation Corps (CCC), home to hundreds of park workers in the 1930s.