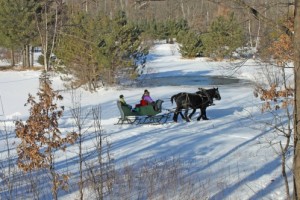 Bella and Ace are calm, well-trained Percherons owned by Darwin and Pam Brown, Coomer Creek Farm, Frederic, Wisconsin.
In 2015, Darwin and Pam will have Bella and Ace at Woodland Trails giving free sleigh rides to guests on just one more Saturday evening:  January 24th and 31st; February 7th and February 21st.
The rides begin at 6:00 p.m. with one couple going on each excursion.
Riding through the woods on a horse-drawn sleigh is an experience you both will cherish!