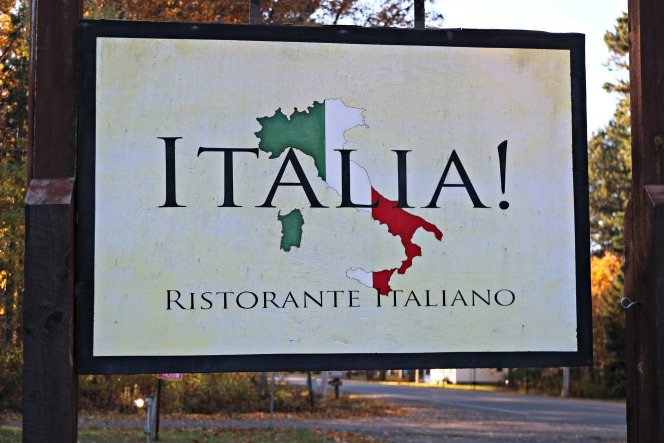 Innkeepers Sandra and John, along with B & B guests Cynthia and Jim, tried a new (to us) Italian restaurant, Restorante Italiano. It is located 15 miles east of Hayward, or an hour and fifteen minutes from Woodland Trails, but worth the drive, especially if dinner is combined with a day trip to Hayward.
The restaurant was opened eight years ago by Rick and Lisa Pajac. They are not Italian but had spent 10 years in Italy with the U.S. Military. Last year, Rick and Lisa went on to a new adventure in England and left the restaurant to their son, Mike Thompson. People who know say the restaurant is even better under Mike's direction.
The inside is perfectly decorated for an up north Italian restaurant with knotty pine walls and Italian décor items. Each table is dedicated to a city in Italy with a booklet describing the city. Our city was San Morino.
Their menu presents a wide range of Italian dishes starting with Antipasti such as Bruschette and Mozzarella Palle, hand-breaded mozzarella balls fried and served with warm salsa rosa.
Their Prima Piatti lists more than a dozen selections, ranging from Bistecca Toscana, Tuscan style USDA Prime NY Strip, to Spaghetti Bolognese (outstanding!), to Gameretti alla Grigla, grilled colossal shrimp (huge!) on spaghetti in garlic, pepper and olive oil sauce.
Under Pizze they offer eight choices of thin-crust pizzas topped with homemade sauce and fresh mozzarella chest. Paninis are also served with the choice of homemade potato chips or a cup of their zuppa di giorno.
Getting there is easy. From Woodland Trails take WI Hwy 77 east to Hayward, then right on WI Hwy 27 S for 10 miles to County Road K. Left on K for five miles to the restaurant on the right.
Calling for a reservation is a good idea, especially on weekends.
Ristorante Italiano
14311 County K
Hayward, WI 54843
715-699-1238
Open 4:00 p.m. Wednesday through Sunday