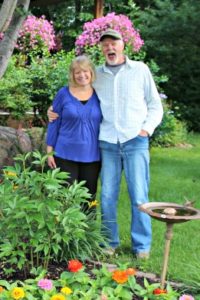 Bonnie and Mel, Rogers, Minnesota, have a large family with 19 grandchildren.
Mel says, "I tell people we have 19 grandchildren and they say, 'Fun!'" I say, "Fun! Have you ever had 19 kids running around the house at once!?" Actually, Mel and Bonnie love having their children and grandchildren around, especially at Christmas time when Bonnie has a cookie baking session for the girls.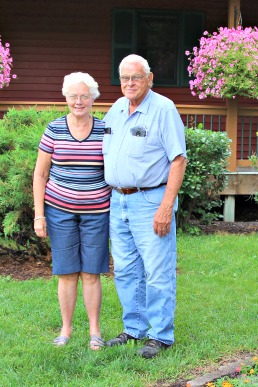 19 was the most we had heard of at the B & B until Carol and John, shown here of Sioux Center, Iowa came. They have five children with 11 grandchildren. But those grandchildren have produced 16 great-grandchildren with one more due in a couple of months!
John says, "All our children live near us in northwestern Iowa. We try to get together once a month or so during the warm months. Now, when it turns cold, Carol and I head to our winter home in Mission, Texas.
Getting to know guests, and hearing stories like these, are some of the great benefits of operating a B & B like Woodland Trails!