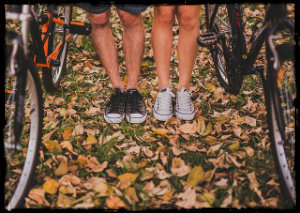 The first day of summer just passed a bit ago so we are officially in full swing, ready for summer fun! What is your favorite thing to enjoy during this season? For many, summer is chock full of get-togethers with friends, beach trips, traveling, barbecues, family time, s'mores by the fire, baseball games, and more. It can be a fun season but also a busy one. For those looking for a bit of respite, we invite you to spend some time with us at our bed and breakfast in Hinckley, MN. We have plenty of activities here that you can enjoy such as nature walks, biking, and hiking but we also offer a peace and quiet that can't easily be found in the city.
For those looking for a convenient country get away, our home is the perfect choice. The atmosphere here is elegant and cozy with all of the amenities you need to feel "at home." Our country home is on the Wisconsin border between Hinckley, Minnesota and Danbury, Wisconsin and an easy drive from Duluth, Eau Claire, the Twin Cities, and St. Cloud. We love providing a place to truly relax. A favorite of our guests is the miles of private trails for hiking and biking. Inn owner John has routes laid out around the inn that guests can take and tour around. There are also new fat tire bikes available for guests! For those looking for an even more low-key adventure, we can also provide a complimentary golf cart so you can ride around in total comfort. We would also love for you to take advantage of our picnic special, either before or after your ride. This special provides guests with a deluxe picnic basket, complete with cheese and crackers, salami, wine, and a delicious dessert.
Every now and then a great event also happens near us. If you are looking to come for an end of July getaway, you can check out the Fur Trade Rendezvous at Forts Folle Avoine. This historical park near Danbury is a living history site with two Fur Trade Posts. You'll find several museums here, a one-room schoolhouse, an authentic 1890's Blacksmith shop, and more. The Great Folle Avoine Fur Trade Rendezvous will be happening from Wednesday July 25ththrough Sunday July 29th, 10am – 4pm daily. Visitors can enjoy demonstrations of archery and tomahawk throwing, black powder shooting, taste fur-trade era food, and observe period goods such as animal skins, jewelry, camp gear, furnishings, and period clothing. It's definitely a must for any true history buff!
Whatever type of retreat you are looking for, we can help you plan a time away that will be good for the soul. Book your room online today and feel free to contact us at any time for more information.