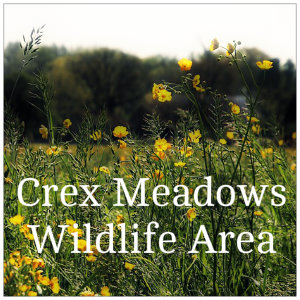 One of the reasons guests choose our special bed and breakfast is the beautiful area we are surrounded by. We are nestled in a private, quiet, and scenic wooded area that offers both tranquility and adventure depending on what you are looking for in your stay with us. Today we want to share about a beautiful area not too far from us called Crex Meadows.
Crex Meadows State Wildlife Area is located about a half hour away from our bed and breakfast and is a 30,000-acre property of marsh, woodland, and prairies in Northwestern Wisconsin's Indianhead Country. This highly protected area is the state's largest remaining portion of this type of endangered ecosystem. Crex Meadows is home to over 720 species of plants, 96 species of butterflies, over 280 species of birds, and of course all kinds of reptiles and amphibians.
You can see colonies of nesting herons, breeding eagles and osprey, trumpeter swans, Blanding's turtles, sandhill cranes, waterfowl and eagles in the fall. It is an area known to also see a moose or mountain lion passing through. We have so many guests that come to enjoy Mother Nature and this wonderful place is a great spot to visit during your next stay with us. Coming up in May they have a fantastic festival that we are sure you will enjoy as well!
Crex Meadows Annual Bird Festival
By far one of the most popular events is the annual Crex Meadows Bird Festival. This year it will be taking place Saturday, May 19, 2018 from 7am-5pm. Some of the events happening during this festival include the following:
Morning Tour – This one is for the early birds! From 6:30am-8:30am take a bird tour around the Crex Meadows Wildlife Area with local bird experts.
Morning or Afternoon Bird ID Hike – Also in the morning, take a fun hike in search of migratory birds! It's from 9am-11am in the morning and 3:30pm-4:30pm in the afternoon and binoculars are provided.
Falconry in Wisconsin – Along with a beautiful live bird, Brian Gaskill and Ed Henricks will be offering a presentation about falconry in Wisconsin from 1pm-2pm.
Wildlife Painting Workshop – For those who appreciate a little creativity, this one is for you! Join wildlife artist, Jim Springett, for a one-day painting workshop. Learn to sketch, under paint, and paint a drake Mallard with oil paints. All materials will be provided and the cost is $60. The workshop will take place from 8:30am-4:30pm and you'll need to bring your own lunch.
Songbird Banding – Get up close and personal with the birds as WDNR Biologist, Bruce Bacon, captures and bands songbirds. You will have the opportunity to hold, photograph and release the birds. This will take place from 8am-11am.
Take note that the tour, hikes and workshop require pre-registration so if you will be booking a stay with us during this time and are interested in one of these events, be sure to visit the website to snag your spot.
We would love to host you this spring or summer and show you this amazing area we get to call home. Book online today or contact us anytime with questions or for help in planning a memorable getaway.