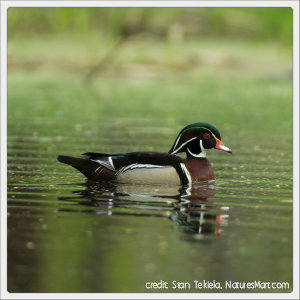 New beginnings! These are two fitting words that come to mind when we think of spring. With the first day of the season already behind us we are anticipating yet another gorgeous spring here in Hinckley, MN. The lush landscape of our 500 acres of woodland blooms and blossoms and is home to all kinds of animals and birds. Around here we really enjoy the bird migration during spring. In fact, some of the best birding in the state can be found right outside the windows of our bed and breakfast. If you've been thinking about a relaxing getaway, now would be a perfect time to visit our home away from home.
During the spring, one of our favorite birds that spend time around here is the Wood Duck. You might see up to five dozen male wood ducks at our feeders in the morning and evening. These colorful and beautiful birds come back every day until the hens arrive and they have selected a nesting location. We actually have nesting boxes that we have installed just for them!
For those of you who might be true nature lovers, we thought we'd give you some fun information about the Wood Duck! They thrive in forests, swamps, and freshwater marshes and they love to eat seeds and fruits. They also go on the hunt for acorns, nuts, and grains. A breeding pair likes to find a rotted out hole in a tree for their nest. When they find a suitable "cavity" for their nest, the male will stand outside as the female checks it out. They often find cavities with small openings so the eggs are more protected from predators. An interesting fact is that females often dump their eggs in other nests to be raised by another female. While you'll typically find 10-11 eggs in a nest, sometimes you might see up to 30 due to this egg-dumping practice. Pretty neat!
We certainly value the natural beauty surrounding us. Our bed and breakfast is truly nestled in nature and is the perfect place if you are looking for a retreat that will soothe your soul and allow you to escape the busyness of life. Book your room online today or contact us anytime for help in planning a memorable getaway to our neck of the woods.