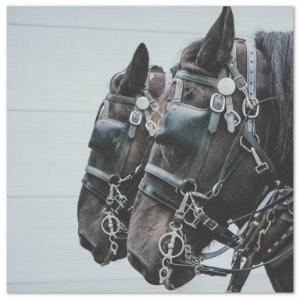 It seems as though the holiday season these days is all about dashing around—buying presents, getting the decorations just right, office parties, family get togethers, and more. We think you deserve a chance to escape and unwind and invite you to go "dashing through the snow…on a one-horse open sleigh" with us! If you are looking for the quintessential, romantic holiday experience of a horse-drawn sleigh ride, come for a memorable winter stay.
Our rustic, yet modern and charming bed and breakfast is located on a stunning 500-acre Pine County woodland property. It is the perfect location for our popular winter horse drawn sleigh rides. They take place right here at the inn by a local friend of ours who brings in his two well-trained Percheron horses. These rides are offered exclusively to guests only and start at 6pm right after our wine and cheese hour that starts at 5:30pm. We take one couple at a time and provide cozy blankets to ensure you stay warm and comfortable during the ride. Our sleigh rides will begin in the New Year starting with our first date being January 20th, 2018 and then following with rides taking place February 3rd, 10th, and 17th.
If you are thinking of a Christmas getaway, we have some great shopping nearby in Danbury—the Country Corner is one place that has some wonderful gifts. Christmas at Forts Folle Avoine Historical Park will be taking place December 2-3, and the 9th from 11am-5pm each day. You'll be able to enjoy live holiday music performed by local musicians, storytelling, holiday shopping, a silent auction, hot cocoa and other snacks, and more. It is a free event that is fun to check out if you'll be staying with us during that time. In nearby Siren, less than a half-hour from our bed breakfast, you'll also find lots of fine gift shops, coffee shops and restaurants.
We'd love to help you plan a holiday or winter getaway—our accommodations are the perfect choice for those looking for a private, peaceful place to relax and unwind. We have guests that have been returning year after year—we'd love to add you to our list of new friends! Book online today or contact us for further information.