Thank you!
Between Returning Guests, people who were referred to us by a Past Guest and purchasers of Gift Certificates, you now account for more than half our business.  For us, welcoming back Returning Guests is one of the most enjoyable and gratifying parts of being innkeepers at Woodland Trails.
Be sure to enter our 2013 Free Night Contest.  This is a special contest is for past guests and purchasers of Gift Certificates only so your odds of winning are very good.  Last year, eight couples were winners of a free night.  Good Luck for 2013!
Woodland Trails Gift Certificates for those who want to give an experience rather than more stuff!   Purchse three or more and earn discounts. 
Notes from the Journals
Most guests enjoy reading what others have written in the journals.  In is uncanny how ofen they find a note written by a friend or relative who stayed in the same room.  We continue to enjoy  reading comments too.  Some of the best phrases we found recently are, "pampered in the woods" and "magical sleigh ride".  Check out some of the recent comments here.
We've posted some new photos.  Check them out.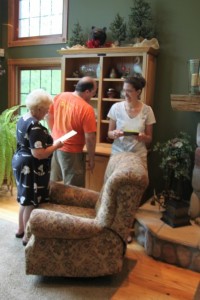 Jack's Game is a Hit in 2012
John's cousin jack was a master at creating party games.  He and his wife Lori entertained often and Jack always had a new game to offer.  One of his best was the Treasure Hunt Game which we set up for a neighborhood party.  Guests are asked to locate a couple dozen items, usually in minature version, that are clearly out of place, such as a sugar cube on top of a door frame.  All contestants have to do is spot the item and check it off a list.  When all the items have been located, they are the winner of an inexpensive prize.
Some guests try the game after breakfast and others after dinner.  A few guests have stayed up until midnight looking for the last item.
We hope you'll try Jack's Treasure Hunt Game during your next visit!
A new Geocaching Record
Doreen, Deb, Karen and Janet were here last fall on their third annual girls' getaway.  This year, they set a new record while Geocaching.  Working in teams of two, to find their treasure they spent over three hours and drove over seven miles on the golf carts.  By contract, Jon and Hannah, a young, computer-savvy couple, went out later and were able to find the treasure in just 25 minutes while traveling a little over two miles ont eh traisl.  It doesn't matter, though, because the ladies had fun on their adventure!
Don't for get, this winter we have Free Sleigh Rides and Complimentary Massages!
We wish you and your family a Merry Christmas and a Happy and Prosperous New Year!
John & Sandra O'Reilly
Woodland Trails' Innkeepers