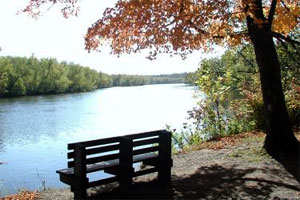 St. Croix State Park is Minnesota's largest, with over 34,000 acres, and is located just minutes from Woodland Trails B&B.
Getting to the park from Woodland Trails is easy:  Take MN Hwy. 48 west 8 miles to the main park entrance road.    From there go south on County Hwy. 22 five miles to the park check-in building.
For park information check their web site or contact Megan Jonhsen at 320-384-6615 x254 or via email at Megan.Johnsen@state.mn.us
Check out park events here.
Interested in Geocaching in the park?   Bring your GPS receiver or borrow one of theirs.