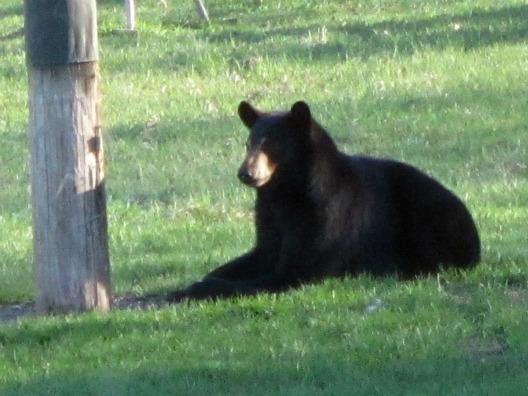 Fred the Bear (bears are less frightening if they have a name!) made his first appearance outside Woodland Trails B&B on April 22nd, the earliest we've ever seen him.   In most years we see him regularly, sometimes during the day and sometimes at night, through the end of August.  After September 1st, he must find a better deal somewhere, such as field corn in the milk stage, and he disappears.
Thankfully, Fred has never caused serious problems.  He is content to eat corn or sunflower seeds under one of the feeders and leave the B&B and other buildings alone.
We have named him Fred, although we are probably seeing a different bear each year.  If we think it might be a female, she is Freda.  If she has cubs, they are Fanny, Francis and Freddy Jr.  On one memorable occasion several years ago, we saw the whole family at one time.
Other wildlife that guests enjoy seeing out the B&B windows include whitetail deer, an occasional fox, and lots of birds such as wood ducks on the pond and goldfinches at the feeders.