Returning Guests are the cornerstone of our B & B! We enjoy telling peopl that, once you have been here 12 times, you become fanily! Well, we have a growing B & B family with some guests having been here as many as 20 times! Some of our B & B family members are:
Katie & Marty, Gretchen & Ed, Cynthia & Jim, Laurie & Randy, Janny & George,
Sandy & Jim, Eldon & Kay, Brooke & Brian, Julie & Paul with Barb, freinds and family, Pat & LeRoy, Jenny & Jayme,
Heidi & Tom, Jennifer & Chris, Dawn & Scott, Belinda & Scott, Sherri & Jim and Nancy & Gene.
Doreen, Janet, Deb and Karen, pictured here, are among our most fun B & B family members. Innkeeper John refers to them as The Bailey Ladies because they once decided it was o.k. to have Bailey's with their morning coffee.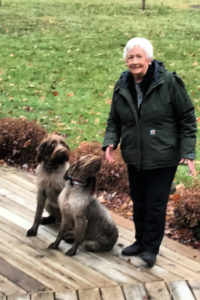 Those who have stayed with us during the past year are familiar with Chewie and Leia, the Wire-Haired Griffons we obtained as six-week-old puppies. The good news is they have been in training with Sandra and are approaching well-behaved status! Full of energy, they love accompanying guests on a walk or golf cart ride where they are content to let the guests choose the route.
The fish are back!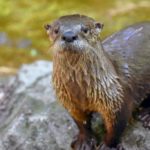 Otters are great fund to watch. They slide down a bank into the pond just for the fun of it, then they play what se3em like tag in the pond. But, they are fish-eating machines!
After the otters cleaned out our firs for the third time, we left the pond fishless for a year. The hope is they would figure out the Woodland Trials Snack Bar is closed and leave us alone for a time.
So, we put small fish into the pond last summer. By next summer, some of them will be large enough to catch, so bring your fishing pole!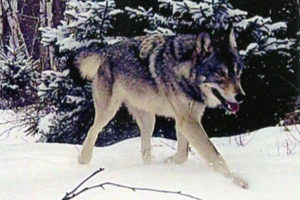 While we are on the subject of wildlife, our local hunters captured this image on a trail camera, located on our land. last winter. Yes, it is a Timberwolf.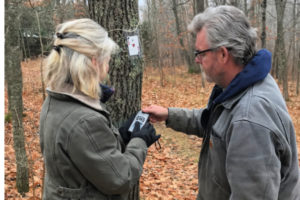 The new GPS game is finding playing cards witht he GPS to make a poker hand. Of coruse, there are many more cards out there than the ones you are looking for. But, when you come up with the correc hand, you are a winner!
Something New in Gift Certificates
Because we ahve been more aggressive at blocking out person time, you might see several days in a row where it looks as though we are really busy. Actually, we might be out playing.
To accommodate those who have a Woodland Trails Gift Certificate, we make this offer: If yo have difficulty finding an open date for your stay, we will exchange your Woodland Trails Gift Certificate forn one of equal value from our Minnesota Bed and Breakfast Association. These certificates are good as a couple dozen Minnesota Bed and Breakfasts.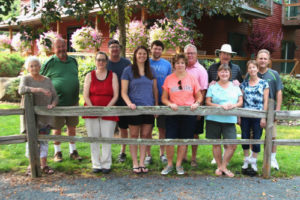 Our main mission is to be a wonderful place for couples on a getaway. We also serve as a place for families and friends to spend time together.
Thank you for staying with us in the past.
We hope you can arrange a stay with us during 2020!
John & Sandra O'Reilly