To Our Past Guests
Thank you for visiting our web site!
We hope you noticed a little different look to the Home Page.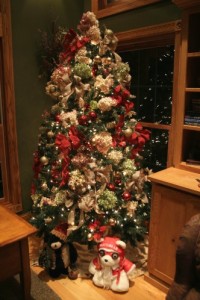 Innkeeper Sandra's Christmas Tree
Woodland Trails B & B is surrounded by hundreds of acres of trees.  Nonetheless, Sandra has had her mind set on an artificial tree and her first effort is shown here. The light-colored flowers are hydrangeas from our garden.  Sandra will follow this work up by attending a week-long flower arranging class for professionals.  While she doesn't intend to become a professional flower arranger, we do hope you will enjoy some of her creations on your next visit.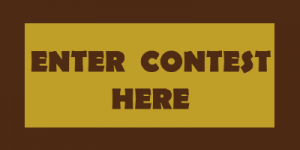 The contest we had this year exclusively for our past guests is very simple: They were asked to  click the contest button, then fill out the form to pick a number between 1 and 5. (That's right, a 1 in 5 chance of winning!) Winners had a choice between a $10 gift card and a Woodland Trails mug. (Sorry, just one entry per couple.) The winners were announced, and the prized sent out, on January 5th.
Also, look for your photo here or anywhere on the web site. If you find it, and you staywith us this year, we'll present to you your choice of a $10 Gift Card or Woodland Trails Mug. Then, if you hate having your photo on the site, let us know … John@WoodlandTrails.net … and we'll take it down right away.
Returning guests are the biggest compliment any B&B can receive. We are grateful to everyone who has come back to ours multiple times. Our leaders are Katie and Marty Blaine, who have already made a reservation for next October, their 15th stay with us!
We are 12 years into this adventure and still enjoying it. In fact, a guest asked recently. "How long are you going to do this?" Our answer was, "Why quit?" The fact is, we have a great staff that does most of the work so we are fortunate to be able to spend our retirement years living in a beautiful home while meeting and enjoying very nice people.
We send a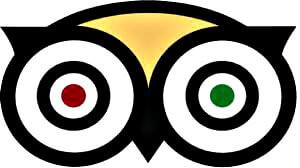 special thanks to those who have posted 5-Star reviews. The 30 reviews on TripAdvisor and 12 on Google+ give a big boost to our business. If you haven't done so already, we hope you'll consider posting a 5-Star review about your visit!
This past year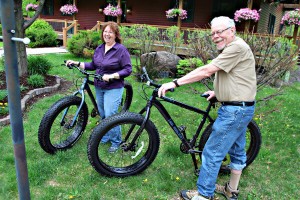 Fat tire bikes were a hit. Our trails are too rough for road bikes but the new fat tire bikes smooth out the bumps. Everyone who tried the bikes this year enjoyed them. They even work in the winter on as much as three inches of snow!
New Golf Cars. Wood ticks are pests in Minnesota from April to July and many people –mostly women — absolutely hate them! In looking for a way for wood tick-haters to enjoy our trails, we came up with the idea of golf cars. They have been so popular that this year we traded in our older golf cars for brand new models. On your next visit, enjoy a tick-free ride down the trails on the new golf cars, Frick and Frack!
All Trails Open. In five minutes on the afternoon of July 1, 2011, a big wind took down hundreds of trees on our land. We were in the center of the storm that covered 200,000 acres. While no buildings were damaged, the driveway and all trails were blocked. The cleanup process has been long but is now finished. All of our trails are open and in better shape than ever for walking, fat-tire bikes and golf cars.
Will's Tree House was added this year. It is actually a deer blind mounted on a trailer. We say it is our grandson Will's tree house but it is really for guests who want to get a closer look at, and maybe take some photos, of the deer and other wildlife. For your comfort, the Tree House has chairs, a heater and lights.
Peace with the Beaver. The battle between John and the beaver has been comical. In the morning, John would open a culvert to lower the water in the Beaver Pond that was flooding our Wisconsin Ferry Road. In the evening, the beaver would plug the culvert. By last spring, the score was Beaver, 10; John 0. Then, a Clemson Beaver Pond Leveler was installed. It's an ingenious system for fooling the beaver so they can't figure out that water is draining from their pond. Now, John gets to say how deep the water will be in the pond …. plenty deep enough for the beaver but not so deep that the Wisconsin Ferry Road floods.
New Record for Breakfast Conversation. With breakfast served at 9:00 a.m., conversations often continue well past the dessert course. Recently, Sandra and guests set a new record – they were still at the table enjoying each other's company at 12:15 p.m.!
A Few Events During the Coming Year: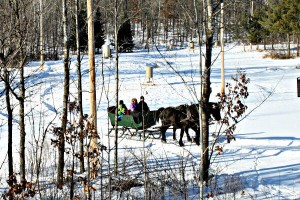 Horse-Drawn Sleigh Rides: Darwyn and Pam Brown will bring Ace, their highly trained Percheron, to Woodland Trails for romantic sleigh rides on five Saturday evenings: January 23 and 30 and February 6, 20 and 27. A sleigh ride through the woods has been on some guests' bucket list. If it's on yours, join us this year!
Stacy's Empty Woodshop Our daughter, Stacy, had a woodshop built near the B&B. It is such a nice building that some new guests coming up the driveway think it is the B&B. But, with her home in the city, Stacy could only work in her shop on occasional weekends. She recently bought a building in the city that has room for her wood working equipment so she is moving it there. She'd like to see the old wood shop used so one of our table topics for guests during the coming months will be, "What should we do with the wood shop?"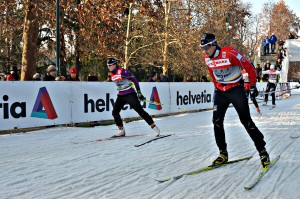 The American Birkebeiner Cross Country Ski Race on Saturday, February 20th. The race runs 54 kilometers, from Cable to Hayward, Wisconsin's main street. Casual observers can watch the finishers come into Hayward starting at about 10:00 a.m., or they can board a free shuttle bus to Cable or one of many vantage points along the trail.
Spring Bird Migration is a spectacular event at Crex Meadows, a 30,000 acre wildlife area just 20 minutes from Woodland Trails. A series of birding tours are held in the spring led by expert birders. The tours are normally held during the last two weekends of April and the first weekend of May.
During the Fall Bird Migration, Crex Meadows is home to hundreds of Sandhill Cranes. The cranes feed in nearby crop fields during the day and return to the wildlife area in the evening. Crane Tours are held on the first three Saturdays in October from 5:00 p.m. to dusk. Tour participants see the cranes fly overhead and land nearby.

Forts Folle Avoine Historical Park is located on the Yellow River, just five miles from Woodland Trails. The park, open every weekend during the summer, is a living history site with two fur trading posts reconstructed to appear as they were from 1802 to 1805. The biggest event of the year is The Great Fur Trade Rendezvous held each year on the last weekend in July. Dozens of fur trade camps feature a variety of unique characters, all gathering together after a rigorous winter of trapping. As was true two hundred years ago, goods are "traded", stories told, and fun times enjoyed by rendezvous campers, traders, and visitors.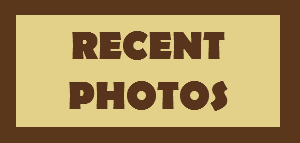 Check out our most recent photo gallery – you might see a familiar face!
Thanks again to all of our past guests. We look forward to seeing you during the coming year!
John & Sandra
P.S. Woodland Trails Gift Certificates are an easy gift for parents, friends and married children!
P.P.S. If you are so inclined, do not forget to write a 5-star review on TripAdvisor or Google+!