Woodland Trails is a perfect destination for a Minnesota motorcycle travel adventure. We're located on a paved road less than two hours from the Twin Cities, St. Clour or Eau Claire and just over an hour from Duluth.  If you are coming from or through the Twin Cities, you might enjoy our Scenic Route.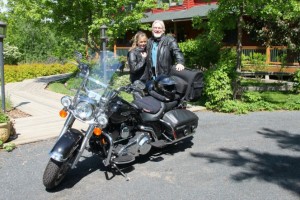 If your stay is to be on any Monday through Thursday, we are happy to offer this Foul Weather Guarantee: If you have to cancel at the last minute because of foul weather, we'll refund your deposit in full. (You must tell us when making your reservation that you are motorcyclists.)
Once you've arrived, we'll start your motorcycle vacation with "lodging" for your bike inside our garage with no pest birds to make a mess. We'll also supply you with towels for shining your bike.
Just across the St. Croix River from Woodland Trails is Burnett County, Wisconsin – Bikers' Heaven — where town and county roads are all paved for your motorcycle getaway. We'll be happy to suggest a route for a scenic tour.