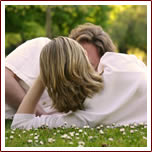 After a hectic time leading up to your wedding, a relaxing Minnesota honeymoon at Woodland Trails B&B is a perfect way to start your lives together!
You will find in your room:
A special Welcome Basket.
A small Hand-Tied Bouquet of Flowers.
A $60 Gift Card that you can use for a Honeymoon Dinner.
The cost for this special is just $60 and can be ordered when you make your reservation either online or over the phone.
CONGRATULATIONS AS YOU START YOUR LIVES TOGETHER!