Golfing
Our favorite local course is Fox Run Golf Course located near Webster, Wisconsin, about 10 minutes from Woodland Trails. Fox Run has 2,600 yard, par 35 9-hole regulation course and a 9-hole short course.  715-866-7953.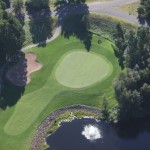 Voyager Village, located east of Webster about 25 minutes from Woodland Trails, has a 6,600 yard 18-hole course plus a par 3 course. The beautiful 18-hole course is designated as a wildlife sanctuary by the National Audubon Society.  715-259-3910 Ext. 31
Grand National Golf Club is a 6,900 course located next to Grand Casino Hinckley.  320-384-7427.
Siren National Golf Course, located in Siren, Wisconsin, 19 miles from Woodland Trails, is the areas most challenging course. Call for rates and tee times at: 715-349-8000.