At Woodland Trails, the success rate for proposals of marriage made and accepted is 100%!
GPS Proposal Adventure: Based on the sport of Geochaching, we have private caches hidden on our land that can be found with one of our GPS units. Guests find it very satisfying when they locate a cache and discover what's inside.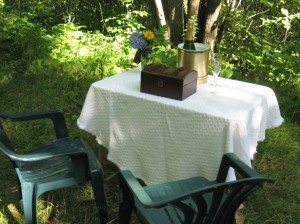 For your proposal, we can put your engagement ring in a cache. As the GPS receiver leads the two of you to the spot, what a romantic and memorable find this will be for your future wife!
The most elaborate cache we have arranged with a young man is this one with flowers, champagne and a treasure chest containing the ring, all located at the end of a remote trail.
Your cache can be somethng simple, such as the ring inside a box at the base of a tree, or something elaborate.  Either way, we are happy to help!
When you make your reservation on-line, use the "comments" section to let us know of your plans. We'll be ready to help you decide how to pop the question!