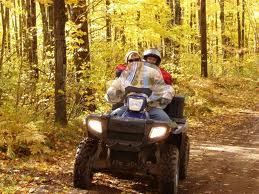 For ATV enthusiasts, Danbury, Wisconsin is a hotspot. One can ride The Gandy Dancer Trail from Danbury all the way to Superior, Wisconsin.
Snowmobilers can ride out of our driveway to the Munger Trail – Boundary Segment.
Both ATVs and snowmobiles are available for rent at Four Star Sports, located in Webb Lake, about 20 miutes from Woodland Trails. 715-259-3286.