One might not expect much in the way of entertainment at a small casino located in a town like Danbury, Wisconsin with just 172 people.  Well, we were very pleasantly surprised for the third time at St. Croix Casino, Danbury, which is just four miles from Woodland Trails.  The first two pleasant surprises were dinner followed by an Elvis impersonator in one show and the Lovin' Spoonfuls in the other.
This time, it was dinner followed by a show with Ronnie McDowell and his band.  The dinner was good — salad, chicken breast with carrots and potato plus cheesecake for dessert — while the entertainment was thoroughly enjoyable.  Ronnie McDowell is a very personable and talented entertainer.  Each member of his four-piece band is equally talented.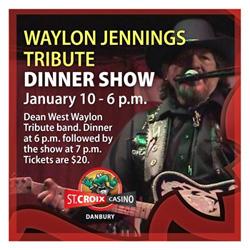 Based on our experience, plus what we heard from other people in the audience, we recommend any future dinner show.  The next one scheduled is Waylon Jennings – Tribute on Friday, January 10th.
Oh, by the way, the dinner shows are a very good value at $20 or $25 for both dinner and the show!  In addition to the occasional dinner shows, the casino has bands playing every week in the lounge with no admission.
As you plan your next stay at Woodland Trails, check out the entertainment schedule at St. Croix Casino, Danbury!  A show at the casino can add to the enjoyment of your stay with us.