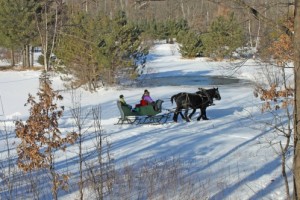 Saturday evening sleigh rides will be back this year.  The sleigh rides are complimentary for B&B guesta and romantic too!
Darwyn & Pam Brown, Coomer Creek Farm, will have their well-behaved Percherons, Bella and Ace, here on these Saturday evenings starting at 6:00 p.m.:
January 11, 18 and 25 and February 1, 15 and 22 plus March 1.  (Notice Bella and Ace will not be here on February 8th.)  We hope you'll schedule a stay at Woodland Trails and enjoy a romantic sleigh ride!